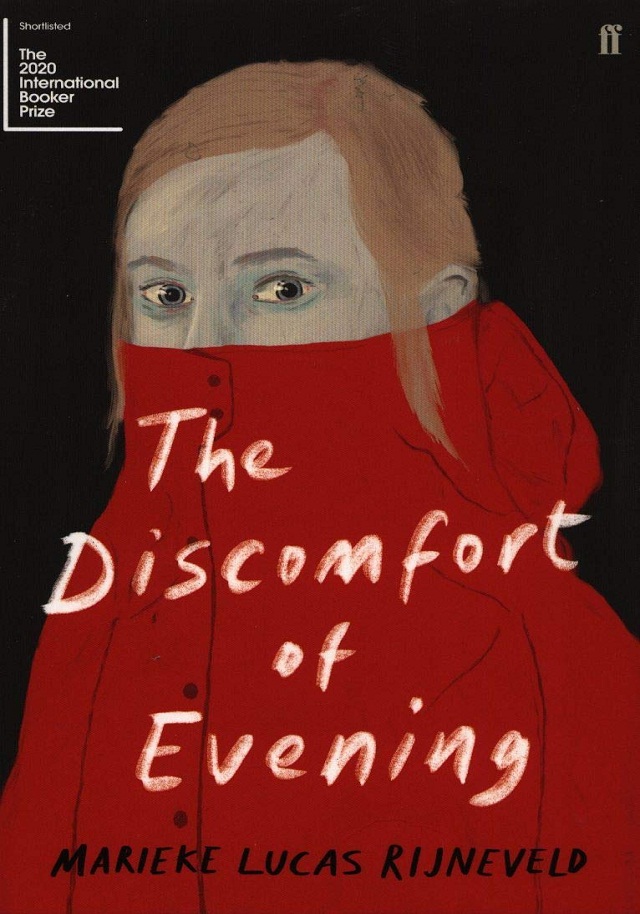 THE DISCOMFORT OF EVENING (De Avond Is Ongemak)
by Marieke Lucas Rijneveld
Translated from Dutch by Michele Hutchison
(Winner of Booker International 2020)
Genre: Literary Fiction
Rating: 2/5
NOT RECOMMENDED AT ALL.
…discomfort is good. In discomfort we are real.

The literary community generally crowns the infamous title of the most disgusting piece of prose to Chuck Palahniuk's 'Guts'. I read Guts. Its puke-inducing horrendous. Well, Guts is Disney's Scrooge McDuck to this monster I am reviewing now. I mean it.
First thing first. Rijneveld identifies as a non-binary individual and uses the pronoun as 'they'. Alright. I generally abide by that. Here I wont. I am not going to play along with a person's social demand who herself do not think twice to violate the most basic social norm: child sexual abuse. So, lets call a spade a spade. Rijneveld is woman I am going to refer her as what she is.
Now. This book is masterfully written. Its highly intelligent in its craft. One would rightly call this book an extended poetry or use the new term 'prosetry'. The imagery is vivid and alive. I do not think I have ever read anything which portray it's world in such minute details. It must be acknowledged that Rijneveld is a poet of the highest order. I am in awe of her literary prowess. Unfortunately as a reader that is my only reward.
This is a relatively short book with a 52,000 word count. And it didn't take me long to finish. But within the three days that I read it, I felt abandoning it several times. Rijneveld's language brought me back everytime.
The book is narrated by a 10 year girl from a rural farming family who lost her elder brother in the first chapter (this is not a spoiler as it is in the blurb). The family starts to slowly break down from this point. The problem is that a 10 year old girl cannot have such a complex, mature voice like the narrator, and this mismatch creates a strange distance of implausibility that is never fully mitigated. The tone is claustrophobic but beautiful, but soon self-harm and morbidity start to surface.
And from then onward it only goes darker and darker till it turns into underage pornography and scat fetish. It is disgusting to the point that I felt ashamed to even read this, and I had to skip a few pages. At one point during my read, I happen to look at the mirror and realized that there was a permanent grimace pasted on my face. It seems every taboo that there is Rijneveld went out to break it to prove a point. Sex involving children is written in such graphic detail that one starts to question Rijneveld's intent.
The cruelty towards animals, the violence, the child abuse, incest, pedophiliac tendencies, morbid suicidal fantasy, disgusting body fluids, excrement, urine, snot and the act of eating it… if this novel was written by a man, what the left liberal world refer as 'cis male' the author would be brandished forever as the sickest scatophiliac, child pornographer and burned at stake by media and social media. If there was any context or philosophy behind all this, anything that could support this deviant writing I would understand. But there is none, it is pointless and gratuitous.
It's such a shame then that Rijneveld, because of her biological gender and her gender identity is being lauded as a genius. I have to say this award is nothing but a political gimmick to show oh how liberal and progressive the Booker committee really are. I wish I could congratulate Rjneveld for being the youngest winner, but it just feels wrong to do so.
Could this story be effectively told without its nefarious perversion? Yes. Most definitely. In a much better way. But then it wouldn't win the Booker. What a shame.
Two stars aggregated from: five stars for language and imagery and negative three stars for all the crap (those who read it will get the pun, but don't, just don't).
[The author Marieke Lucas Rijneveld is in the picture below and the cover of her book on top.]